Photoluminescent Vinyl
Flexible photoluminescent vinyl materials with an incorporated self adhesive backing of the highest quality standard are also available in all luminance Classes according to ISO 17398 and the PSPA Classification system. This pvc photoluminescent vinyl material shows excellent printability, flame retardency and stability with outstanding adhesion to most common well prepared substrates.
JALITE Photoluminescent Self Adhesive Vinyl (SAV) is available in rolls and is used as a base for the production of safety signs and in the form of continuous bands or tapes in low location escape path route marking lines. All JALITE photoluminescent tapes are fully accredited with various credentials MED, Llyods type approval, MEA, and others.
Photoluminescent vinyl is supplied in roll lengths of 10m, 20m, 30m, 40m and 50m (nominal width of 1000mm). For a quotation please specifiy the luminance decay quality and the approximate quantity requirements to sales@jalite.com or click here.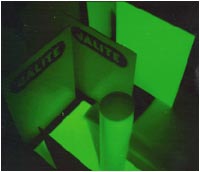 Photoluminescent Vinyl Tapes
JALITE Photoluminescent Tapes are second to none; still fully installed and in place on handrails and on obstacles in the tall buildings in New York City while other lesser products from inexperienced producers are falling on the floor.
25 years of experience in installing tapes and self adhesive products in buildings pays dividends. As for the rolled material, JALITE photoluminescent vinyl tapes are high tensile strength, perfectly integrated materials and not some quick stick polyester tape with thin coatings.
Standard JALITE tapes are made from the flagship JALITE AAA quality and JLUME for long duration applications. JALITE photoluminescent tapes stand for trust and quality like all of the JALITE products and you will not hear the baby cot "Glow in the dark" ticket from JALITE !
"JALITE Deadly Serious about Safety"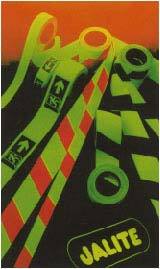 For demonstration buy one get one free !